Beltane rituals are performed during the celebrations of Beltane, also called May Day, where people wake the earth from their hibernation through these rituals.
This day will take place on 1 May and is one of the main holidays of Witches, Heathen and Wicca Practitioners.
Beltane is also celebrated in Ireland, Scotland, Wales and the Isle of Man, and has its roots in Celtic and pagan traditions.
During this time, it is believed that the goddess and the horned god will manifest as the May King and Queen, where their union creates flowers, food and all living things on earth.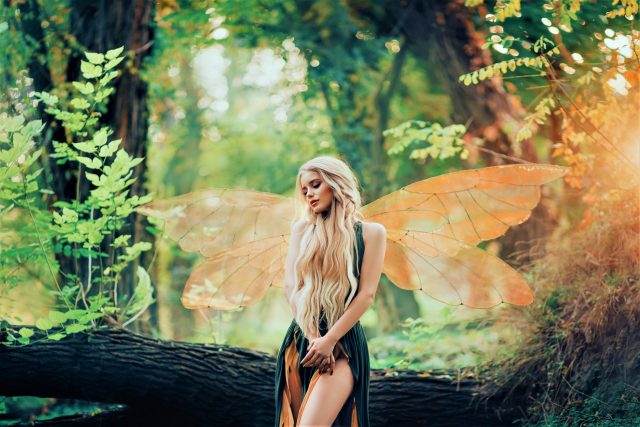 The name for the celebration is also believed to be associated with the Celtic god Belenus, the sun god, which is very likely since fire is very symbolic for this celebration and is used in Beltane rituals.
Also on the day of the Beltane, the veil between the two worlds becomes thinner, just like in Samhain, so that fairies, witches and ghosts can roam freely.
On the night of Beltane, the Elven Queen is also looking for someone to take with her to the elven world on her snow-white horse.
Should you also be sitting under a tree that evening, you could see her, and if you don't cover your face and look at her, she could choose you and take you to the elven world.
During this time, many Beltane rituals are performed to celebrate this time of year.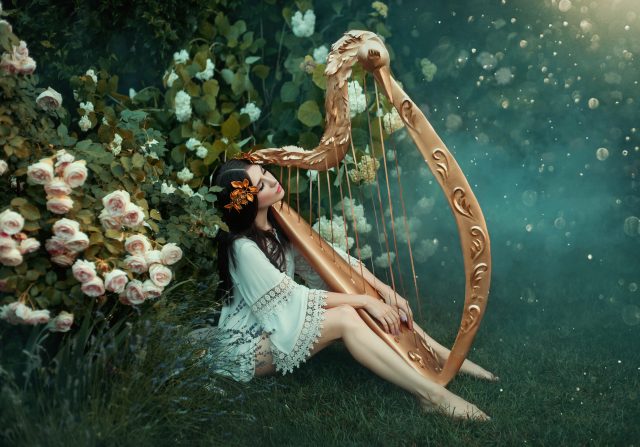 May is the season when nature is most alive and when the union of man and woman creates life.
For this reason, many young people spend the night in the woods dancing, making love with each other, or enjoying the wonders of nature.
Love, fertility, union and freedom – all these are the symbols of Beltane, so that May 1 is still celebrated most often in nature, but as a modern workers' day.
Based on this symbolism, Beltane is the perfect time to perform Beltane rituals that promote fertility, sexuality, beauty, desires and change.
These Beltane rituals include making flower crowns, bathing in a ritual bath, lighting campfires, but also many other rituals that celebrate the beginning of summer.
Beltane Ritual: The Union of the Goddess and the Horned God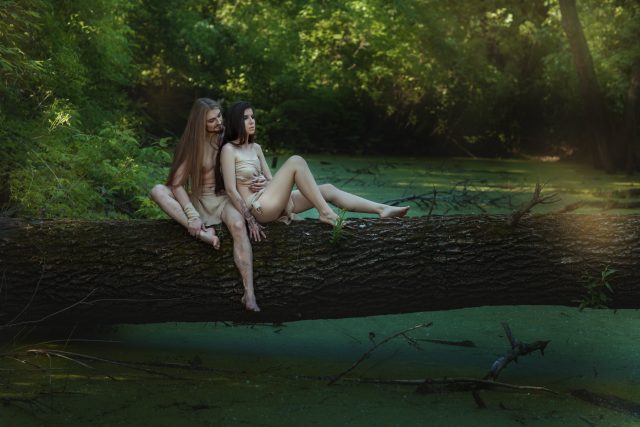 Beltane is a holiday of union, not only that of the goddess and the horned god, but also of the female and the male.
During this time, the young horned god blossoms into a man, and the Trinitarian goddess accepts him as his lover.
For this reason, it is common for many weddings and marriage proposals to take place during this time, because after all, this day is the wedding of the deities that creates life.
A Beltane ritual also depicts fertility in a very interesting approach, where young and old couples would go to the forest to celebrate May.
They celebrated Beltane by making love in the forest, although this act had a very different meaning instead of the act of blessing the earth and animals for fertility.
After their act of love in the forest, they would also bring flowers such as hawthorn or other May blossoms from the forest to decorate their home.
The hawthorn could also only be used as a decoration on this day, because otherwise it is a flower that brings bad luck.
By making love in nature, ancient pagans believed that with their act of fertility they would make the whole earth more fertile.
The goal of these actions was also not to produce offspring, but it is said that if these actions did not produce offspring for future couples before the wedding, they could cancel their application.
These rituals were also banned in the 16th century because they were immoral, but there are many other traditions and Beltane rituals to celebrate love and fertility.
Beltane Ritual: Handfasting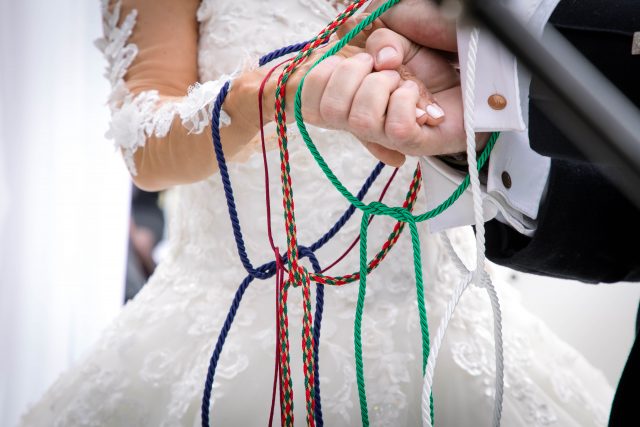 Since Beltane is the day when the goddess and the horned god unite, this festival is a popular day for weddings or marriage proposals.
For this reason, it is a common Beltane ritual for couples to practice hand fasting at these weddings.
Hand fasting takes place after replacing the rings by placing the hands of the newlywed couple with a band or node.
After that, their hands are released, and this symbolizes that they are connected by their free will.
This ritual is closely associated with the Germanic people, both the Scottish and the pagan and neo-pagan people.
In addition to hand fasting, people who could not afford a traditional wedding ceremony jumped over a broom to be accepted by the community as a married couple.
When jumping over the broom, the couple changes from one old life to a new one, and they are considered married.
This wedding option was ideal for those who could not afford a church ceremony but still wanted to live a life in unity with their spouse.
Beltane Ritual: Dance around the Maypole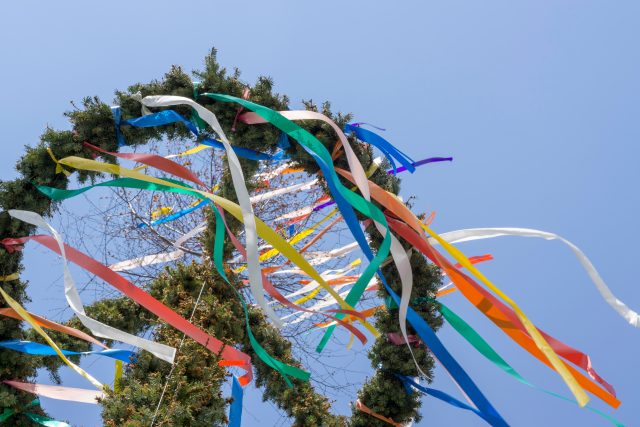 Dancing is one of the most common Beltane rituals, and that's why the maypoles are the central part of this celebration.
It's also not certain when the maypole originally became part of the May Day celebrations, but it's considered a fertility symbol.
The long stake symbolizes the male reproductive organ, but some people also think that it could simply represent a tree that connects earth and sky.
Even if its symbolism is discussed, it is undoubtedly a true monument to fertility.
For a time, maypoles were even banned in England because they appeared to be a pagan idol.
Even the maypoles erected on Beltane do not quite correspond to the rituals of the past, but were modified according to the Neheidn faith.
They are not seen as idols, but as a way to free themselves from the darkness and celebrate the newborn sun with others.
This Beltane ritual unites people in a dance of joy and pleasure, and that's what this May Festival is all about.
Beltane Ritual: Morning Dew for Beauty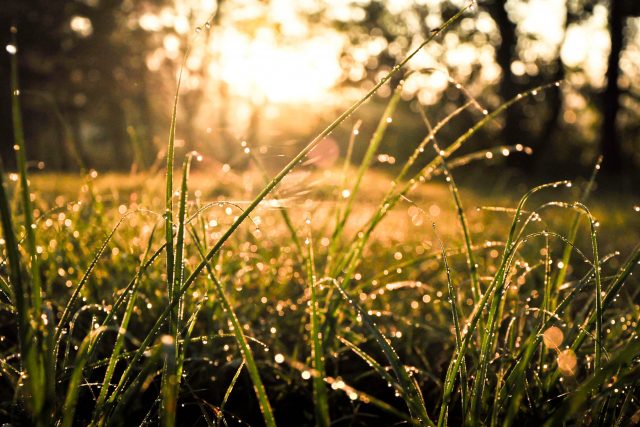 Collecting dew on Beltane morning is a common Beltane ritual performed by women.
The dew collected on this special day is meant to promote beauty and well-being.
This wonderful beauty and cleansing ritual has its roots in Celtic traditions.
Since beauty, fertility and love are the main aspects of Beltane, this day is perfect for practicing a ritual of love and beauty.
On Beltane morning, women usually wash their faces with it or collect it in a glass and leave it in the sun to increase its strength.
This dew serves the beauty, youthfulness and healing of skin diseases.
The Bletane morning dew can also be used in other magical rituals, as its power is very powerful.
Nevertheless, it is most often used for beauty and ensures a beautiful complexion.
Beltane Ritual: Making a Flower Crown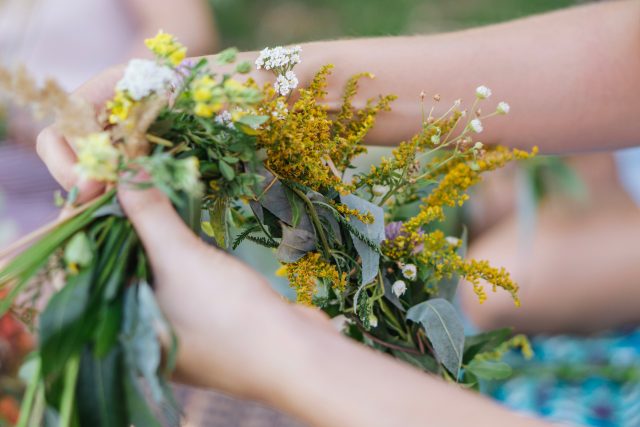 Since the flowers are in full bloom on Beltane Day, they can be found in all aspects of beltane rituals as well as in wood.
On this day, flowers are collected in the forest, the houses are decorated with them and they were also offered to other people.
The maypole is also decorated with flowers, and certain flowers are especially welcome on this day.
After washing their faces with dew and braiding their hair, women would also make flower crowns to wear.
They would even put rowanberry branches in their hair, as they were the darling of the fairies.
The flower crown is a fertility symbol, but it also represents desires.
When making the crown, you have to think about the desires that want to make it bloom.
Beltane is also the day when we hope that our wishes will come true, and when we make and wear a flower crown, they become a reality.
Beltane Ritual: Making a Flower Altar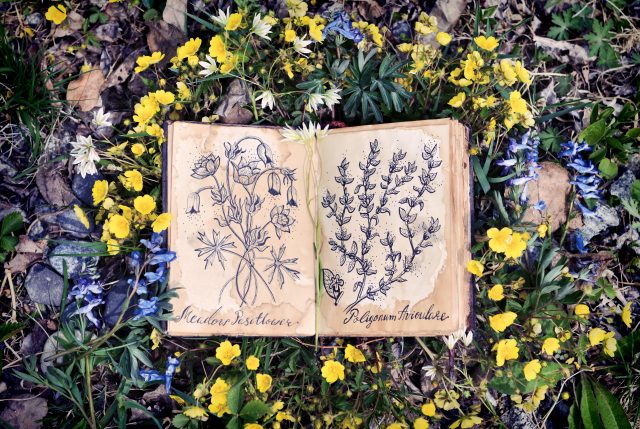 The celebration of fertility during the Beltane is also carried out by making a flower altar.
Creating altars is not just a Beltane ritual, but a general pagan practice.
When making an altar, the person must also consider what the symbols of Beltane are.
The flowers closely associated with Beltane are tulips, dandelions, crocus, forsythia and violets.
Candles used in the colors of these flowers are also perfect for this fesAltar.
Candles made from dry herbs are also ideal for representing this festival.
The altar should also contain something depicting the horned god and the horned goddess.
They could be presented with statues, antlers and also a ring representing the goddess herself.
Beltane Ritual: Making a May Basket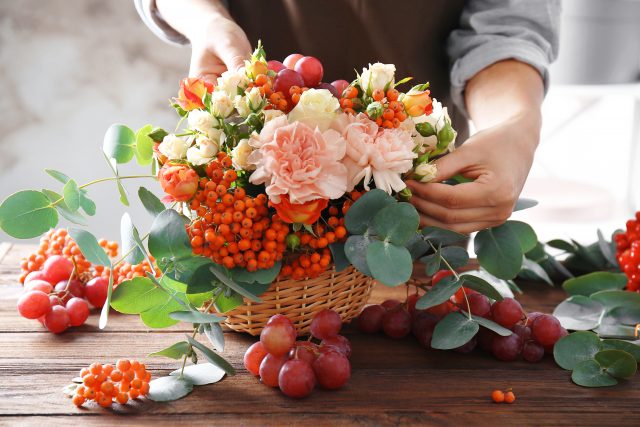 A very common Beltane ritual is the production of the May basket.
In the old days during Beltane Day, men went out on Beltane morning to collect flowers.
After picking the flowers, they put them in a basket along with sweets and gave them to the women.
These women were either their partners, friends or family members.
Today it is a tradition to leave these baskets to someone special and dear, but anonymous, or to leave them at the door and shout "May basket" and then run away.
This ritual is also extremely popular among lovers, and the children will also enjoy the creation of beautiful May baskets.
The basket should also be filled with flowers, colorful ribbons, sweets and everything else that represents this wonderful Beltane tradition.
Not only is this a traditional Beltane ritual, but it's also a great way to brighten someone's day.
Beltane Ritual: The Fairies Call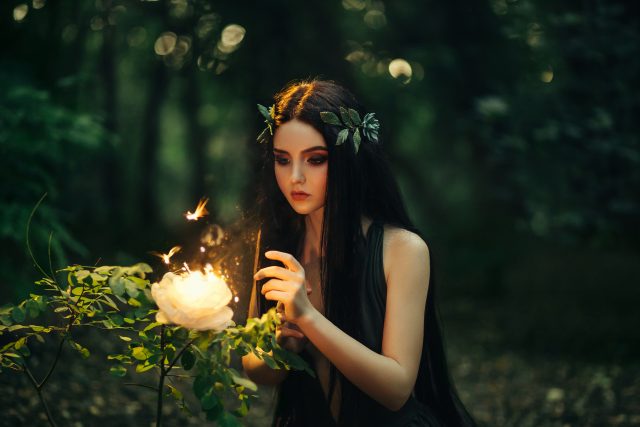 There are a few Beltane rituals that focus mainly on fairies and are practiced for protection.
It is also important to mention that fairies are very jealous and easily offended beings and that they should be treated with respect, especially on Beltane.
They can wreak havoc on this day, and for them to behave nicely, they should be welcomed and flowers, crafts and bells should be offered.
One should make small wooden houses and place them in front of the house, yellow flowers also prevent them from causing harm.
These magical creatures are also attracted by the sound of the bells, so they like it when they hang some.
Even if a stone circle is created in the garden, this will be the place where they will gather peacefully.
The fairies can also make promises to people, but they should never be considered if a person doesn't know exactly what to expect in return.
Agreements between people and fairies should be clear and fair and, if not, simply rejected.
Beltane Ritual: Making a Campfire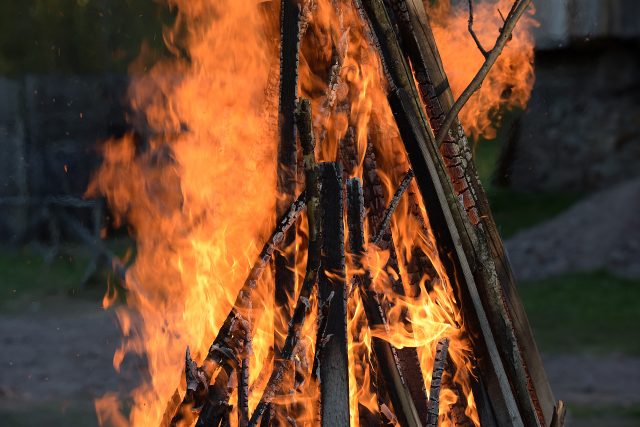 Lighting a fire during the Beltane symbolizes the end of the dark days and the power of the sun rising again.
This fire was used for many Beltane rituals, and its power was that of purification.
Women performed fertility dances next to this fire, and couples jumped over the fire and committed to each other.
Other people jumped over the fire for reasons of fertility and purity, and the same thing happened to animals.
Cattle and other animals were not driven over the fire, but driven through the smoke to guarantee their fertility and protect them from disease.
These bonfires are lit outdoors, and a huge group of people would gather around them.
The fire had a great protective effect, and all other house fires were later to be released from this fire.
Today, the largest bonfires are lit during the Beltane in England, with members of the coven of witches holding private parties and usually lighting small bonfires.
What food and drinks are typical of the Beltane celebration?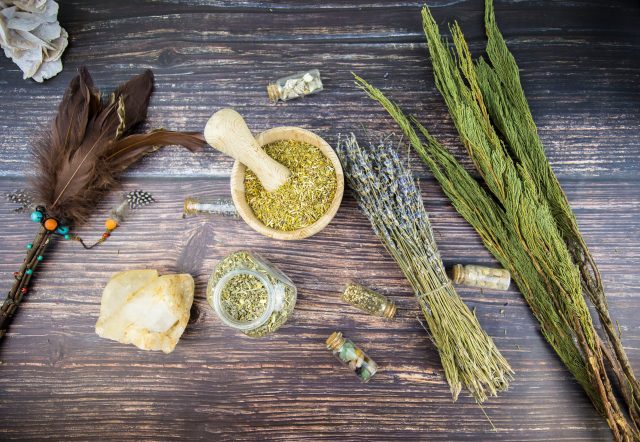 In addition to the Beltane rituals, the unique foods prepared to celebrate this day are another important tradition.
Foods that are especially Beltane are sweet foods such as honey, chocolate as well as oats, refreshing drinks such as May wine and lemonade, and foods that are aphrodisiacs.
The honey with its color also represents the Beltane theme, and in honor of this day, a special type of bread called Bannock is made.
On this day, for fun, the food is often also shaped into suggestive shapes, so that they resemble body parts.
Everything that is prepared must be sweet, loving and pleasant, so there are some typical dishes that particularly reflect these aspects.
Bannock bread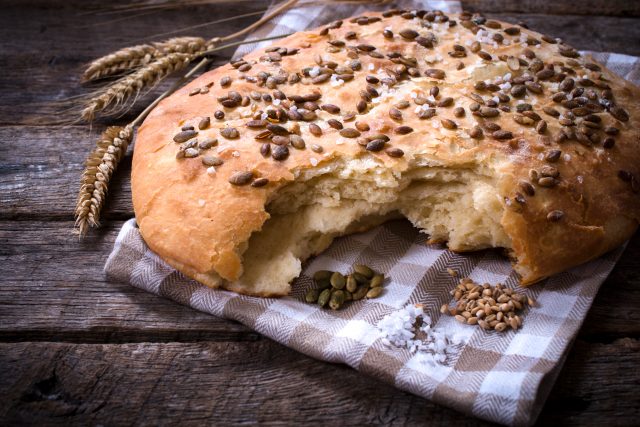 How to make Bannock bread:
In a bowl, mix rye flour and flour, salt, baking soda, baking soda and all seeds (sesame, flax, chia).
Add honey, oil and water and combine everything with a food processor.
Place on a work surface, mix the ball with a little flour and form.
Roll it into a 22 cm circle and transfer it to a baking tray.
Brush with egg whites and sprinkle with sesame seeds.
Bake at 180 ° C until golden brown, then cover with a double kitchen towel for 10 minutes.
Gingerbread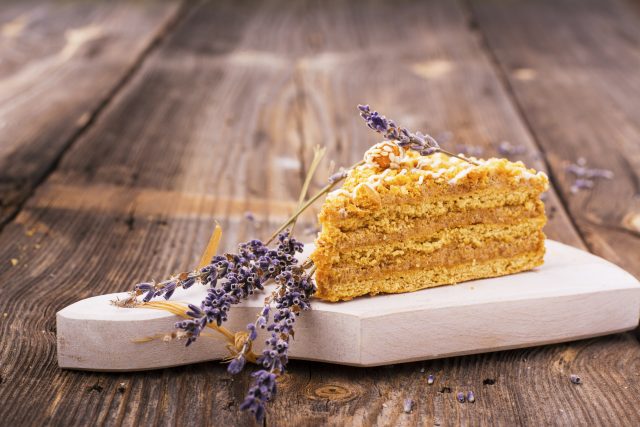 How to make honey cake:
For the bark of the cake:
Mix the egg, honey, sugar, milk, baking soda and butter in a pan and bring to a boil.

When it boils, remove from heat, add cocoa and flour and let cool for 2-3 minutes.

After cooling, whisk the dough

Divide the dough into 4 equal parts and roll out each part on an inverted baking tray and bake over medium heat for about 7 minutes.
For the filling of the cake:
Mix 3 eggs, flour, 3 tablespoons of sugar, thickener and vanilla sugar.
Bring the milk and the rest of the sugar to a boil and add the mixture of eggs, flour, sugar, vanilla sugar and thickener.
Cook over low heat, stirring for 5-6 minutes.
Then remove the filling from the heat and cover with cling film.
(You can place the foil directly on the filling, it does not adhere), allow to cool.
After cooling, add 200 g of butter and whisk. Store in the refrigerator for 30 minutes.
Stack the cake. Bark, fil, bark, fil, bark, fil and bark. Then let the cake rest under the load overnight.
Mead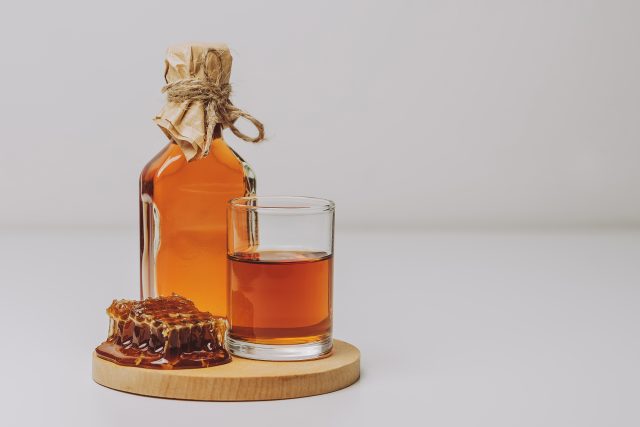 Honey wine is prepared as follows:
The same parts of water and honeycombs are placed in a bowl and boiled for about an hour, constantly removing the foam.
Leave it in an open container covered only with a clean cloth for about a week.
After that, it is sieved and poured into a barrel, from which it is consumed as needed.
Honey wine is also produced only on warm days and the outside temperature must not be below 15 degrees.
Maibowle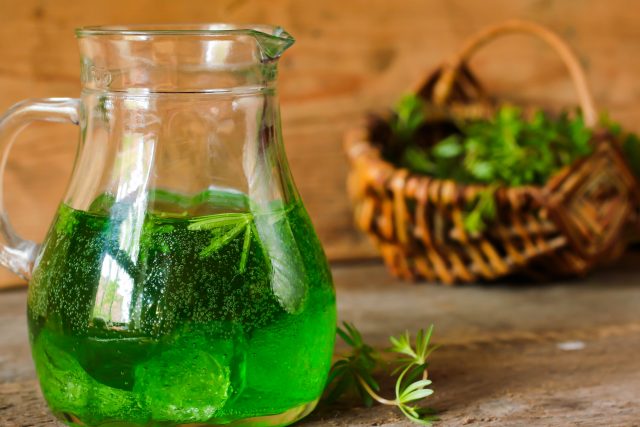 How to prepare the Maibowle:
Harvest and dry woodruff during or after flowering.
Pour wine over sliced woodruff (fresh or dried).
Add sugar and orange slices.
Leave to stir for only half an hour to dissolve the sugar.
Strain and serve cold.
How to celebrate Beltane and enjoy the coming summer?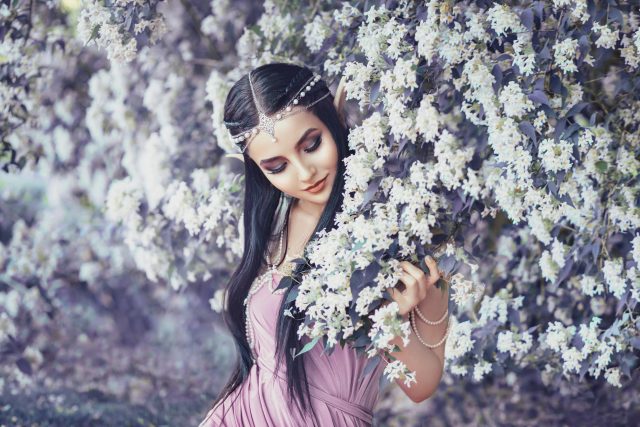 The Beltane celebrations should be experienced in the spirit of the season and the Beltane rituals should be practiced as a way to honor the coming summer.
This day is the perfect opportunity to spend time in nature and give love to the people around you.
You can either take a walk through the forest and collect flowers from the field nearby to decorate your house.
It is also a tradition to make a May basket or to give flowers to the neighbors on Beltane.
The love energy during Beltane is also in full bloom, so this day can also be used to enjoy time and pleasure with your partner or to spend time with family and friends.
In addition, you can prepare a wonderful picnic in nature and take with you typical Beltane dishes that are sweet and tasty, symbolizing union and love.
Since Beltane is also about fertility and nature, there is no better day to create or maintain a garden, after all, Mother Nature is the Mother of all of us, and her union with the horned God creates life.